Re: German-registered Learjet flying in the NTTR
---
[ Post a Reply ] [ Discussion Forum Index ] [ FAQ ]
---
Message posted by FromAcrossTheOcean (Member since 04/21/2021) on February 16, 2023 at 17:40:13 PST: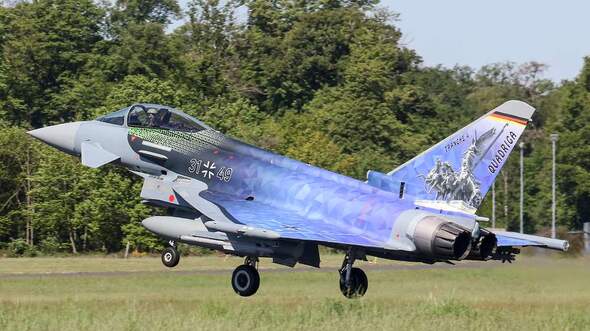 31+49 is interesting because in 2020 it got added foil in special "Quadriga" color to highlity Eurofighter tranche 4 of which Luftwaffe will receive 38 new planes from 2025 to 2030. Maybe testing some new systems for that batch?
Quadriga is the 4-horse chariot of the goddess of victory or fame on top of the Brandenburg gate.
https://www.flugrevue.de/militaer/quadriga-sword-of-boelcke-zwei-neue-sonderfolierungen-bei-der-luftwaffe/
---
In Reply to: Re: German-registered Learjet flying in the NTTR posted by Joerg (Webmaster) on February 15, 2023 at 20:54:29 PST:
Replies:

---
---
[ Discussion Forum Index ] [ FAQ ]